Friday, 27 April 2018 01:23
VC-04 IS IN PRE-PRODUCTION! Stay tuned...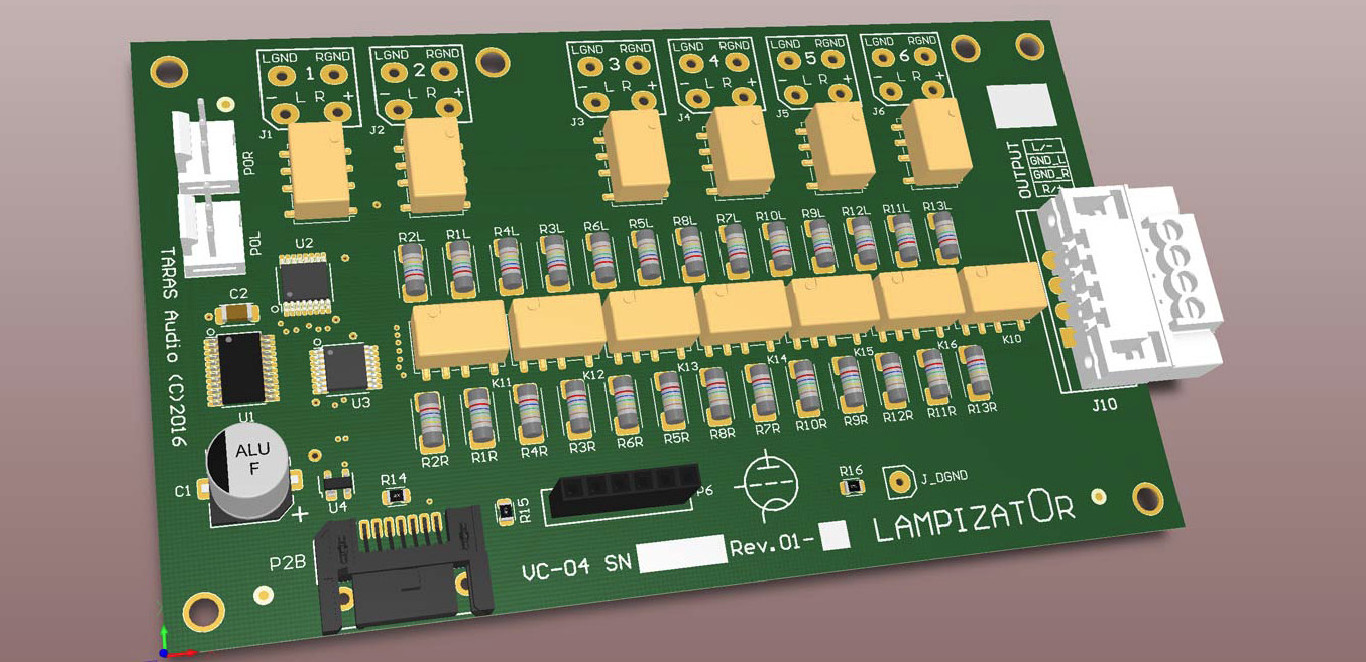 Volume attenuator with input selector and IR remote control kit - TAIV VC-03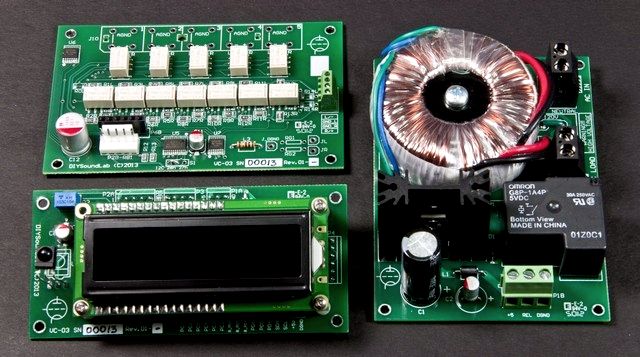 Click HERE for ordering information
During development and building of high quality DAC and amplifiers, this project surfaced as most logical next step. After using variety of volume controls I experienced lack of features and flexibility, low value/price ratio, low end bulky design and poor performance – those are just some of the factors that created lots of setbacks. Volume control is not even a primary part of audio equipment, but slowly surfaced as a foundation on which state-of-the-art build can happen. Flexibility and functionality, top quality audio and seamless performance. And as much as I like mechanical resistor ladder switch with 64 or more steps – I didn't want to jump to adjust volume on the amp every time. IR remote control was a "must have".
Please welcome 3rd generation of universal volume control with input selector and IR remote capabilities - VC-03.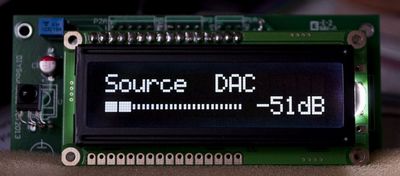 Philosophy behind VC-03 design:
1. Top audio performance as result of extensive component research and careful design and testing.
2. No sliding mechanical parts, like motorized volume pots. They age and are unstable under changing temperature conditions inside amplifier, DAC etc.
3. No digital volume regulating ICs like CS3310, PGA4311 and others. Not that they are evil, but take a look at datasheet and you will realize they need buffer stages to work with low input impedance amplifier schematics and need some buffer on input as well. Extra TWO stages to get best out of IC and no guarantied results because volume is regulated by semiconductor, non-linear element.
4. Minimalistic approach to volume attenuation – simple and reliable schematic, no audio signal distortions.
5. Flexible input selector (1 to 5 inputs).
6. Seamless controller performance with instant reaction, without delays or funny behavior.
7. Memory stored values for many parameters, like last input selected and its volume level etc.
8. Ultra-quiet power supply and maximum isolation of digital signals from audio circuitry.
9. Only Highest Grade electronic components, especially in audio path.
10. Possibility to use extended controller capabilities beyond volume control.
After 3 years of research, prototyping and 2 earlier versions, volume control VC-03 revision took shape. Firmware testing and debugging was taken very seriously to allow best possible user experience and flawless operation. VC-03 extends functionality of previous revisions, allowing it to use as control module for electronic equipment. Extended control ports, I2C architecture and flexible design can make it part of amplifier, pre-amp, receiver, DAC, control center and other designs.
OEM MANUFACTURERS ARE WELCOME – I will work with you to make VC-03 part of your product.

VC-02 inside LampizatOr DAC by Lukasz Fikus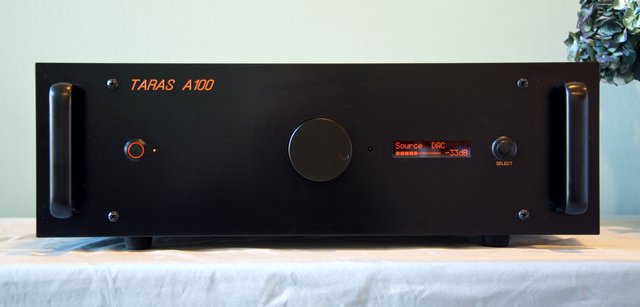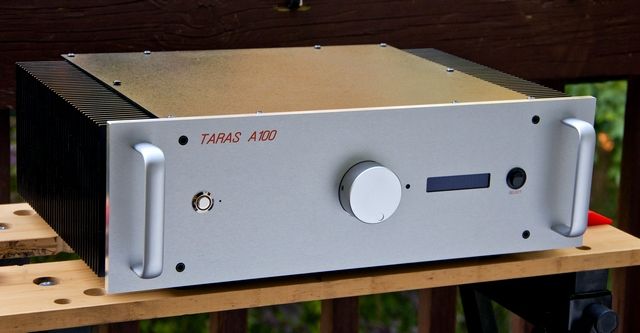 VC-02 inside TARAS A100 Amlifier - Black and Silver version
Last Updated on Saturday, 30 January 2016 14:03
Friday, 27 April 2018 01:23

Assembled VC-03 Kit. All cables and encoder assembly included, Push-button with ring LED is NOT INCLUDED in the kit

VC-03 Distinct Features:

- Hand made in US by Aerospace engineer and audio fanatic.

- US-manufactured PCB, hand assembly and quality control of each board.

- Aerospace standards PCB design with via stitching and RF noise suppression. In our tests relay boards were put next to AC power supply in tight design and no noise/leaking detected.

- PCB routing with minimized parasitic capacitance and inductance of signal traces and ground plane.

- State of the art carefully designed precision "constant input impedance" R-2R ladder attenuator based on binary code. Combination of 7 different attenuation levels provides 0 dB to -63 dB and over -130dB in mute passive level regulation. Ultra-Precision low noise resistor attenuator is based on latest technology Japanese resistors, designed for noise-sensitive and medical equipment. Chosen after months of research, those low inductance surface mount resistors provide better performance in high-end audio than military grade resistors.

- Gold-on-Silver contacts sealed fast acting signal relays.

- Up to 5 selectable inputs with individually memory stored volume level.

- Easy direct control and setup with precision optical encoder.

- Learning IR remote control system. Use your own remote or supplied generic remote control. There will be option to choose fine design remote control with VC-03 kit in near future.

- Grounding flexibility – separate ground for each channel allows you to connect ground the way that works best for your design.

- Modular construction that allows flexible arrangement and connections (all inter-modular cables are included). Easy choice of Stereo Single End (SE) or Balanced versions. SE easy upgradable to Balanced version upon request for a fee (See price list).

- High power relay allows to use VC-03 as main AC power entry to turn on/off your device (remotely controlled).

- Extra low noise ground separation between digital and analog circuitry.

- Surface mounted components to minimize parasitic effects in a signal path.

Relay PCB assembly

VC-03 Functional Specifications:

- 3-modules design: Powers Supply (PS), Control and Display Unit (CDU), Relay Module (RM) in SE or Balanced modification.

- Volume attenuation and input selection by rotating optical encoder or from IR remote control

- Main AC power on/off control

- Display auto dimming with adjustable brightness level

- IR remote functions:

Power On/Off

Volume +/-

Mute

Input Next/Previous

Input select individual: 1,2,3,4,5

External ports trigger on/off (user design) - memory stored state, IR remote controlled.

All ports have TTL level output, 0 – off, 1 – on (pull-up resistors optional). In addition, three of the ports have duplicated high current buffered outputs. Buffered outputs have high impedance off state and grounded in on state. Maximum current when using VC-03 power supply – 300mA, not to exceed 300mA total for all three ports. When using external supply for buffered port outputs, absolute maximum levels are 500mA at 30V for each port with external power supply.

Custom firmware is possible for OEM customers, as well as design alterations.

- Intuitive Setup Menu to set:

Speed of volume regulation for encoder

Dimmed Display brightness level

IR remote learning menu – easy point-to-point setup

Individual Input naming – assign and store in memory new name for each input to be displayed on LCD and other functions as described in VC-03 Manual.

VC-03 Technical Specifications:

Number of Inputs

4 Standard, up to 5 (option), actual number of used inputs is adjustable from setup menu

Effective Volume attenuation range

0 to -63dB

Mute attenuation

-130dB or better

Input Impedance, Ohm

32k, different values possible upon request

Display

LCD with backlight, 2x16 characters, fast recovery

Orange (default), Red, Blue, White transmissive

IR remote compatibility

IR remotes with NEC, Sony, RC5 and RC6 protocols

Additional digital outputs for external control

3X TTL level (4.9VDC) un-buffered/buffered ports, IR remote controlled.

Buffered ports – not to exceed 500mA total for 3 ports.

AC power consumption, Max.

6W

AC Load, Max.

30A, 250VAC

Current Software Version

VC-03 v3.01

Last Updated on Wednesday, 23 January 2013 22:35